Flights for skydivers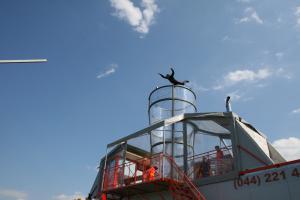 Make call to order: +380 44 221 41 51
Undergoing AFF course or already certified skydiver? Relative work or freefly?
Wind tunnel lets you perform regular continuous and safe training sessions and master your body control technique in the air flow
Wind tunnel is specially designed to let you focus on your own feelings and progress more efficiently rather then in usual freefall from an airplane.
ulet.pro professional team will help you with tips, proper instructions and advices on faster progression.
Our wind tunnel diameter and air flow quality let skydive sportsmen work on mastering technique regardless of their initial skills.
ulet.pro recommends: get your training – fly regular (at least 6 min. per day) – and progress won't wait long to come!
Price for independent skydive sportsmen:
| | | | |
| --- | --- | --- | --- |
| Package (minutes) | Price per package (uah) | Price per minute (uah) | Max persons |
| less than 15 | | 150 | 1 |
| 15 | 2100 | 140 | 2 |
| 30 | 4050 | 135 | 3 |
| 60 | 7800 | 130 | 4 |
NOTICE: Price calculation for sportsmen undergoing AFF or Static-line training consists of standard rate(table above) + AFF-instructor time (20 uah per flight minute)
Jumpsuit rental for sportsmen – 20 uah per flight minute.
Flying in a wind tunnel for paratroopers
In the case of paratroopers, the aerotube is not acting as entertainment, but as a professional simulator. It allows you to qualitatively work out all the compositions in the air, so that the parachute jump would be successful and effective. It deals not only with beginners, but also with those who have completed the full course of AFF, after which permission is given to perform independent jumps.
Services of training in the wind tunnel buys those who have mastered the technique of freefly or group acrobatics. But they are considered the pinnacle of parachute art. As in any other sport, parachute jumping requires constant workloads and workings, so that the skills become more pronounced, and your self-confidence only grows.
The advantages of aerotube training
Flights for athletes are a great risk associated with constant stress and concentration. In order for each jump with a parachute to pass successfully, without traumatization, all movements must be worked out to automatism.
There are several indisputable advantages in wind tunnel training:
It is completely safe, so it can be trained by beginners and experienced athletes
Our aerotrainer, thanks to its power, allows you to fully immerse yourself in the atmosphere of a real flight.
Why should I entrust my training in the Ulet.Pro wind tunnel?
We work with modern equipment, which regularly undergoes diagnostics and improves.
Our wind tunnel is spacious enough so that you can work out any trick as much as possible, hone your every move.
You will get the opportunity to rent a professional uniform that is designed specifically for flights. We will pick up for you one that fits perfectly, will provide comfort, and will not clamp down on your movements when performing tricks.
We have only experienced instructors who have all the necessary knowledge and skills to give you full support and share useful tips.
Thanks to the convenient schedule of work, you can visit us really often, without disturbing your usual way of life.
We are ready to host a large group of athletes or amateurs. Come to us with your whole team to attend an intense workout and just have a pleasant and fun time together.
With us flights for paratroopers will not just be a standard training. They will turn into one more opportunity to experience unlimited freedom, to surrender completely to the beloved business and become a true professional in it.
Our freefly aerotube is a unique chance to regularly attend training sessions and significantly improve our training. The cost of our services is completely accessible and fully justified by the quality that you can assess yourself. Choose any of the packages offered, the price of which depends on the total duration of flights and the number of participants. And faster start classes that will be filled with vivid impressions, sincere smiles and, most importantly, will lead to significant progress in your physical and emotional training.
Ulet.pro works only for you. Every client is our friend. And we do our best to provide you with comfort and a great mood every time you come to us.