Corporate events & teambuilding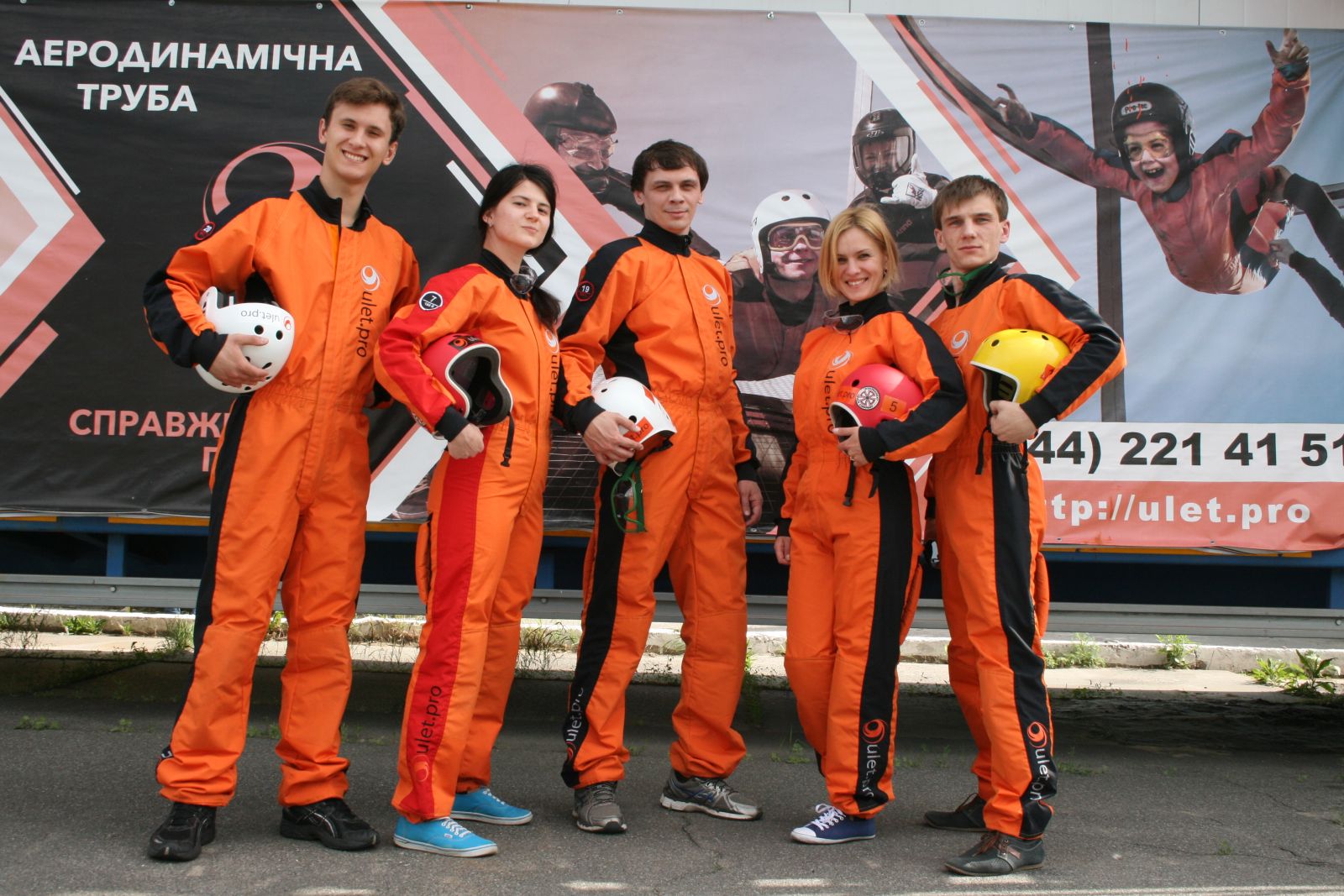 Our professional crew offers you unique opportunity: a corporate event in the wind tunnel ulet.pro!
Get rid of stress and negative emotions, become the consistent team
Get a charge of cheerfulness and good mood
Try the optimum combination of adrenaline rush and team spirit
Sitting in a cafe, a restaurant or a holiday trip to the picnic – these all has happened before. Just imagine how closely-knitted your team will become after common free fly, when you share all the new sensations and positive emotions with your colleague and friend. Cheerful and friendly team ulet.pro will help you change accumulated negative emotions into the feeling of easiness and mutual support. Let's fly!
Contact us for all the inquiries: +380442214151
---
Service Agreement:
Read carefully and accept following ulet.pro_Advance_Agreement.doc
Payment is to be done only after the above Advance Agreement being signed with ulet.pro company representative
Full 100% advance payment is to be done prior to flight session booking
Minimal event duration is 20 flight sessions and not the less than 2 flights per person.
---
The wind tunnel ulet.pro is a simulator of a free fall, let's say it can even be the sports attraction with the use of which may brightly fill and diversify the program of your event: whether it is a corporate event, family or a large celebration. Guests will witness your holiday aerodynamic show, enjoy the flight of professionals as well and if you want – you can experience the feeling of a free fall. For your service there our highly qualified instructors and coaches.
Order a free fly as a gift for, let's say, a birthday person. Believe me, this is the best, extraordinary and incomparable present. As you present, first of all, emotions, and unforgettable experience! We are ready to discuss and develop a program of celebration.
You may probably remember the spectacular air show during the opening ceremony of the Olympic Games – 2006 in Turin. Exactly with the help of a mobile wind tunnel professionals demonstrated their flying art for the millions of audience viewers. Do you want to impress your guests the same way?
Corporate holiday in the Wind Tunnel
If your team plans to hold a corporate holiday, then you can definitely offer an original and bold idea - flying in a wind tunnel. Such an active holiday will give all its participants a lot of positive impressions, will allow you to forget about the gray work days and try something new and interesting together.
Such entertainment will amaze both the female and the male part of the collective. This is very unusual and fun, but what else is needed when it comes to the upcoming holiday?
Advantages of holding a corporate holiday with flight in air tube
Many modern managers understand how important it is to maintain a positive atmosphere in the workforce. Therefore, they are looking for original ways of uniting all employees into a single mechanism - coherent and strong. Such an active holiday will allow us to look at our colleagues in a completely different way, see their sincere smiles and shine in their eyes, and establish contacts with those who were not allowed to talk earlier.
Thus, you combine collective rest and conducting team building, which will have a very positive impact on the relationships within the team.
Why can you entrust your holiday to Ulet.pro
Our company was created in order to turn every event into a real fairy tale. We provide all conditions for every member of corporate leisure to feel comfortable and confident.
The program of the holiday with Ulet.pro includes:
Carry out safety briefings to prevent emergencies. We strictly follow all the norms and requirements, take every flight seriously, because your health and your mood depend on it.
Use a special form that consists of a coveralls and a helmet. About sports shoes you will need to take care of yourself, it's better to choose models with lacing that will hold on tightly to the leg.
The flight in the wind tunnel will take place in turn for each participant of the corporate. If you are planning grand team building, prepare encouraging "chants" or posters so that every employee during the flight felt support from the rest of the staff.
All participants will be accompanied by experienced instructors. They perfectly know their business, so they will help you relax and feel completely at ease.
It is worth noting that the photos in aerotrubes are very juicy and impressive. You will be able to compose an interesting collage from photos to serve as a memory of this amazing day, when your collective become one big and friendly family.
Here you can order a corporate holiday, which will be the most discussed event of the year. Your employees will get a real pleasure from flying and sharing their pastime in such an easy and informal atmosphere. Corporate vacation with Ulet.pro will provide:
great mood
extremely joyful emotions
a sea of ​​memories
pleasant communication
and, of course, a sense of total drive and unrestrained freedom.
The price of aerotube services is very affordable. Therefore, even a small company can afford to arrange such a holiday for its employees. At the same time, we fully justify the obligations imposed on ourselves, and we guarantee that the holiday will be held at the highest level.
Trust your leisure to the professionals of their business - the company Ulet.pro, and you will never regret that you decided to cooperate with us.
---
Глеб
★★★★★
08.05.2018 в 10:36
Очень понравилось. Команда вообще выше всяких похвал
Egor
★★★★★
05.05.2018 в 15:59
Наталья
★★★★★
03.05.2018 в 18:42
Впечатления от полета действительно незабываемые! Каждому, кто хочет испытать новые эмоции, получить заряд энергии и позитива, стоит обязательно попробовать этот "улет"!!! Спасибо большое инструкторам за профессиональное отношение к работе, вежливость и спобность подбодрить!
Huseyin Dinc
★★★★★
02.05.2018 в 17:49
Thank you so much for this wonderful experience. Now I can jump with parachute. Thank you again to the entire team for letting me pass this passion.
Максимильян
★★★★★
28.04.2018 в 17:57
Полетал вместе с маманей и сестрой в трубе! Мама сопротивлялась до последнего, но все-таки решилась посетить аэротрубу! О чем ни разу не пожалела. Остались очень приятные впечатления. Все довольны, все супер! Очень хорошие ребята работают: вежливые и внимательные! С удовольствием придем снова! Спасибо за необычный выходной ;)
Ирина
★★★★★
23.04.2018 в 17:00
Полет был отличный! Инструктора большие молодцы! Респект за все!
Софи
★★★★★
22.04.2018 в 21:22
Мне очень понравилось! Хорошие тренера,и в инструкции всё понятно. Набрались кучу емоций, в прочем всё отлично! Спасибо!
Yulia
★★★★★
22.04.2018 в 06:51
Море впечатлений. Просто "улет". Получила огромное удовольствие, заряд энергии и отличного настроения. Отличная команда. Все ребята- профессионалы . Видно что любят свою работу и это проявляется в высоком уровне обслуживании и отношении к посетителям
Юрій
★★★★★
21.04.2018 в 22:52
Отлично, спасибо ребятам за работу и полет! Хочется еще и еще!!
Татьяна
★★★★★
09.04.2018 в 23:37
Летали сегодня с мужем - название удовольствия полностью совпадает с названием сайта - УЛЕТ!!! Команда - просто молодцы и великолепные профессионалы. Не взирая на возраст и вес, я смогла ПОЛЕТАТЬ (не в кресле самолета)!!!!!!!Детская мечта сбылась!!! СУПЕР!!!!!!! Спасибо!!!!!!! И сами еще полетаем, и друзьям расскажем!
Юрій
★★★★★
09.04.2018 в 16:36
Дуже круто, Ви - класні, продовжуйте в тому ж дусі. Вам успіхів у вашій роботі.
Татьяна, Андрей, Мартин
★★★★★
02.04.2018 в 15:37
Ребята, спасибо огромное, получили массу удовольствия! Вы - супер!Успехов! Вернемся к Вам обязательно!
Анстасия
★★★★★
02.04.2018 в 10:33
Самые неожиданные и необыкновенные впечатления, теперь рекомендую всем попробовать и ощутить этот кайф. Отдельное спасибо инструкторам, вы крутые ребята и находитесь на своем месте, веселите, поддерживаете. Спасибо Вашей команде!
Данил
★★★★★
31.03.2018 в 19:33
5 великолепно, эмоции, адреналин, круто, обязательно попробуем ещё. Спасибо большое ребятам , команде ulet.pro.
Татьяна
★★★★★
22.03.2018 в 19:01
Летали в аэротрубе вместе с папой! Несмотря на разницу возрастов - получили море удовольствия и позитива, радовались и прыгали после полета, как дети! Инструктора - настоящие профессионалы, знают и как подбодрить, и как помочь, и, самое главное, научили летать! По 3 полета на человека - самое то! Мы очень довольны и обязательно придем снова всей-всей семьей и друзей позовем! Спасибо команде Ulet.pro!
Reviews:
15
pcs., Evaluation:
5