Gift Certificates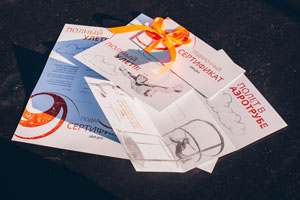 Add to cart or make call to order certificate: +380442214151
Gift certificates are purchased by weekend price.
Rules of using the certificates may be found at this link. The term of validity of certificates is 6 months from the date of purchase (but not later than November 1 of the current season. After September 1, the validity period is until May of the next flight season).
Gift – impress – and – make happy!
Gift certificate for the flight in ulet.pro air tunnel works perfect. This season – flight is the most hot and exclusive gift.
ulet.pro recommends: Best as a gift is "Recommended" or "Optimal" package
A gift certificate for a flight is an opportunity to transform one day of your loved one into a real fairy tale - mysterious, exciting and quivering. The presence in the wind tunnel is comparable only with the real magic, which enthralls and allows you to take an absolutely new look at modern extreme rest.
Where to buy gift certificate for a flight?
There are several pleasant and unexpected consequences for this solution, which will definitely not leave you indifferent:
First, it's original. Despite the fact that this entertainment is incredibly interesting, it has not yet become too widespread. Therefore, you will not be afraid that you or your family will become bored. Or, that the birthday person you are going to congratulate has already flown in the wind tunnel several times.
Secondly, it's extreme. And, most importantly, it's safe. So, if your children constantly ask you to try something new or even dream about skydiving, offer them such a mini-training. It fits even the smallest, provided that they really want to fly and will listen to the recommendations of the instructors.
Third, it is quite acceptable and affordable. Especially when you consider that the price of a flight in a wind tunnel depends on the type of package purchased, the number of participants, and so on. Everyone can afford such an acquisition, what can we say about the gift for our second half or a colleague who adores all the unusual.
What is included in the full cost of the service?
When purchasing a coupon for a flight, you are entitled to:
Using a special outfit. Its main purpose is your safety and convenience in flight. The fact is that the air in the pipe moves at a speed of about 250 km/h, so without a reliable helmet and dense overalls in the figure, you certainly can not do.
Obtain detailed safety instructions. It will allow you to understand how to properly fit inside the pipe, how to act in case of an emergency, what movements and tricks should be avoided in order to ensure the security of all participants in the flight, including the trainer.
Direct flight with an instructor who will hold you for special straps on the suit throughout the session
Why it is worth buying a certificate in the company Ulet.pro?
We are a team of professional technicians and instructors who know everything about the wind tunnel and the features of its operation. We work clearly and smoothly, at any time are ready to support our customers in order to eliminate anxiety and fear. By purchasing a flight certificate from us, you can certainly be sure that you will receive a charge of exceptionally positive emotions.
Have you decided to buy a gift certificate from Ulet.pro? Then, rather, make an order, in order to begin direct flights in the near future, which will fill your life with amazing and unexpected emotions.
The certificate of an aerotube is a safe and effective gift even for someone who is used to be calm in any situation. These are emotions that are difficult to describe in words. But they capture you and will never let go. Not surprisingly, according to statistics, many of those who tried to fly in the wind tunnel, become devoted fans of visiting such an attraction.
Such a gift is an impression worthy of all praise and a sea of ​​compliments. So do not miss your chance to become a real hero for your family and friends.