Gift Certificate for Kids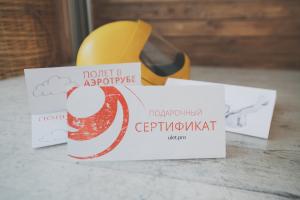 Add to cart or make call to order certificate: +380 44 221 41 51
Rules of using the certificates may be found at this link.
Gift – impress – and – make happy!
Gift certificate for the flight in ulet.pro air tunnel works perfect. This season – flight is the most hot and exclusive gift.
ulet.pro recommends: Best as a gift is "Recommended" or "Optimal" package
Gift certificates for flying in the wind tunnel for children
If you are looking for a gift certificate for a child, be sure to pay attention to the offer from Ulet.pro. Your children can experience a feeling of free fall, which is comparable only with a jump with a parachute.
However, it does not require extensive pre-training or the availability of sports skills. Absolutely every child, if desired, will be able to try to fly in the wind tunnel and perform some simple tricks.
It is worth noting that you can start such flights at the age of 4 years. If your baby himself wanted to try this entertainment or came to relax with you. Be sure that such a gift to the boy will allow him to feel like a hero of his favorite cartoons - bold, desperate and strong. Speaking about the gift to the girl, it can be noted that she can reincarnate in a fairy or princess, who with her gracefulness bewitches everyone around.
Thanks to the large assortment of gift certificates with different number of sessions and the duration of the flights themselves, your child will be able to enjoy the flight alone or The company of his friends. That will make it possible to turn a normal day off into a real extravaganza of emotions and smiles.
By what such a gift is good for your child?
Children love fairy tales and surprises. And such a gift will definitely become a complete surprise for them. Your child will experience such delight and joy that this memory will forever remain one of the brightest.
Are you going to prepare a gift for your children on theirs birthday? Then, please make an order in Ulet.pro. With us, any holiday will be fun and colorful, and all boys and girls, regardless of age, will be completely delighted with such entertainment.
What do you need to know before offering your child a flight in wind tunnel?
Such a flight is absolutely safe. And the risk of injury during it is reduced to a minimum. This is due to several reasons:
Briefing and preliminary training. Their duration is about an hour to maximize in detail and accurately acquaint children with the rules of behavior within the structure, to tell how to settle during the flight, how to proceed in the event of an unusual situation. The conversation is conducted with the child in a pleasant and understandable, and most importantly, a slightly game form. Thus, the baby can feel confident, and will not feel any discomfort.
Direct flight. All the time you are inside your child's tube will be accompanied by a professional instructor. He will support your baby for special straps, which are located on the overalls for flights. Ensures that he is correctly positioned in the center of the structure. Not the last value has the emotional state of the child during entertainment. And our trainers probably know what words will help your children relax and enjoy the flight.
By purchasing this gift for children, please note that on the platform your child should come in sports shoes - comfortable and non-binding movements. The only contraindication for the flight may be problems with the cardiovascular system. Therefore, in case of the presence of diseases associated with it, consult your baby's doctor beforehand.
Such a certificate for children will allow you to become a real magician who knows how to surprise and make your child's day truly unforgettable. Our company has been engaged in such flights for a long time. Therefore, you can without any doubt entrust us with a birthday or party for any group of children.